The majority of the penguins were sold tonight by silent auction at the Greenwood Collective's artwalk. My Professor Herringbone was a hit! I'm so delighted!
The bidding was fast and furious as 5 different bidders ratcheted the price higher and higher, before a 6th bidder plunked down the "buy-it-now" price (more than twice the previous bid). Amazing! There were only two others in the whole show that went for that much! There were thirty or forty on display tonight. Mine was the only one that was so avidly pursued — most only had a couple bids. *is flattered and thrilled*
Here's us… (I, um. I steam-punked my cast. I kinda had to.)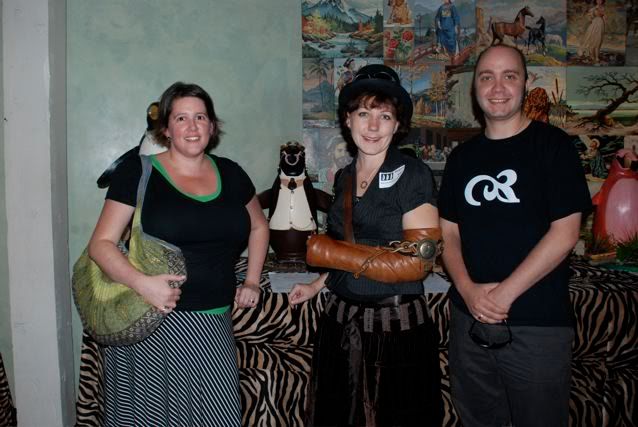 (thanks to scarlettina for the pic)
The Professor, dapper little fellow that he is, apparently charmed his way into the graces of the Dorothy Parker penguin. Well, maybe it was the gallery owner who was playing matchmaker, but at any rate the buyers certainly thought they made a nice couple, so they will be going home together (to be displayed next to their grand piano, so cool). You can kinda-almost see Miss Dorothy peeking over the gal's shoulder. I'm hoping to get a picture of them in their new home. :)
scarlettina's penguin was much admired as well — I kept hearing compliments and praise for hers all night. Her sale was exciting, too: her buyer came up and stood right in front of Cleopenguin, to make sure she wouldn't be out-bid at the last second! She was REALLY intent on getting that one and was obviously thrilled that she won.
Hooray art success! Fun evening!