Artist's Update: Penguins On The March!
Dear Friends,
As many of you know, I recently made the transition to working full time as a studio artist, and as an inaugural studio project I participated in "Penguins On The March," a public art project to benefit Woodland Park Zoo's newly renovated penguin exhibit.
Similar to Seattle's 'Pigs On Parade' exhibit, participating artists received blank penguin forms to decorate and transform; the finished art works will 'march' through various Seattle neighborhoods over the summer. Amateurs, groups, and professional artists alike participated in the project, resulting in 50 amazing, amusing, whimsical, and beautiful penguin sculptures.
It is my pleasure to introduce my Steampunk-guin, Professor Herringbone: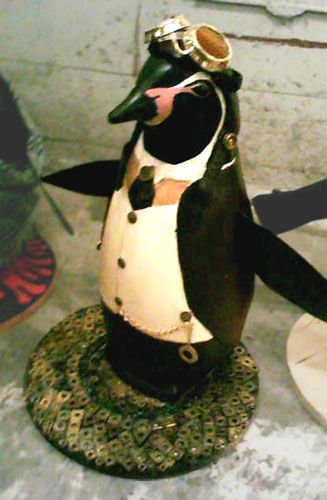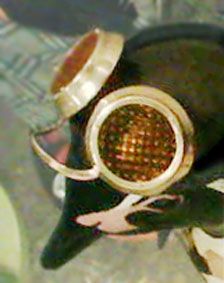 (…with standard apologies for the quality of the photos, which really don't do justice to the details; guess you'll have to come visit him in person!)

The dear Professor is crafted from a plaster-resin, sculpted, drilled, carved, and painted with acrylics, and sealed with a poly-acrylic sealant. He features brass and leather found-object adornments and a pair of handcrafted brass goggles. (But of course they had to be custom fit: it's just so hard to find goggles to accommodate a beak nose…) He stands atop a found-object mosaic of recycled mechanical parts.
Professor Herringbone is inspired by the Steampunk movement, which is also sometimes referred to as Gaslamp Fantasy. An excellent summary of the steampunk genre can be found in the Wikipedia entry on the subject: http://en.wikipedia.org/wiki/Steampunk
Those in the Seattle area are invited to join me and other penguin artists tomorrow at either of two official exhibit launch celebrations:
10:00 a.m. – noon (official program begins at 10:30 a.m.)
The Space Needle, outdoor, near the valet entrance
FREE: Open to press, penguin artists, family & friends, and public

6:00 – 9:00 p.m.
The Greenwood Collective
8537 Greenwood Ave N, Seattle, WA 98103
FREE: Open to the public during Art Up/Open Up Greenwood-Phinney monthly art walk
Following their debut, the Professor and his avian brethren "will begin migrating into Ballard, Fremont and Greenwood-Phinney, where you will find individual penguins prominently featured in front of neighborhood businesses in July, August and September," according to project coordinators. Select penguins will visit the Fremont sculpture "Waiting for the InterUrban" on Saturday, June 13th, before landing at their individual roosts.
"After migrating through Seattle, the penguins will be auctioned off to benefit Woodland Park Zoo's field conservation program. Woodland Park Zoo supports 38 wildlife conservation projects in 50 countries worldwide, including the Humboldt Penguin Conservation Center at Punta San Juan."
For more information, you can visit the official site at http://www.zoo.org/penguinsonthemarch/
---
Special thanks to Janna S., Christopher L., Darryl Y., Rachel N., and Jack and Llyne F. – all of whom contributed, collaborated, cheered me on, or otherwise supported me during the Professor's creation. Thank you all for your support!