New Class at North Seattle College!
I'm excited to announce that starting in mid-July I will be teaching a class at North Seattle College!  I'm joining an amazing team of instructors and I'm delighted for the chance to get to know another facet of the Seattle metals community, namely, all the wonderful students at North.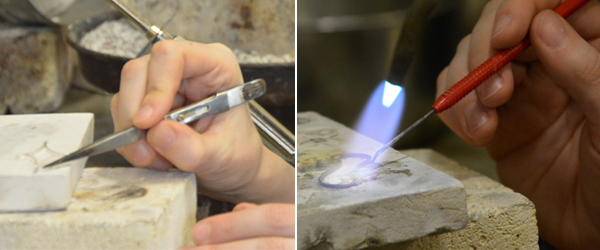 The studio at North is super cool: each bench is equipped with its own torch.  There are students of all levels, from hobbyists all the way to those who have completed their Certificate of Jewelry Design and are taking the opportunity to use the bigger equipment provided by a community studio environment.  It's neat to be back in an academic environment like this!
Plus, the class I will be teaching is one of my favorites.  It is simply a Jewelry Open Studio class.  This class is so fun for me, because it is all about the students: what projects are you working on, what are you struggling with, and how can I help you improve your skills and finish your pieces.  We are not limited by a set agenda, rather we are openly exploring different approaches to find what will work for what you are trying to do; and I can provide suggestions and solutions that you may not have had in previous classes.
If you have been in one of my classes at a different art center, this might be a great chance to check out the studio at North! Â Or, if you have projects that you are just wishing you had more time to work on, this class is for you.
The class will meet on Thursday nights from 6:30-9:30 pm, and runs from July 9th through August 20th (7 sessions).  Because of the nature of the class, you do need prior experience; however, there are also two sections of Beginning Jewelry running at North this summer, and many many options at Danaca, Pratt, and TMAC.  Jewelry students, you have a smorgasborg of choices!
Registration is open now:Â click here for more info and to sign up.